About our service
The Deaf Child and Adolescent Mental Health Service (CAMHS) provides a specialist mental health service for deaf (the word deaf covers all range of deafness from profound to mild to describe variation degree of hearing loss) children with a range of emotional, behavioural and developmental problems.
The team supports children with a mental health condition and either:
A severe or profound hearing loss;
British Sign Language (BSL) as their preferred/first language;
Or a significant language impairment related to moderate to profound hearing loss
Hearing Children of Deaf Adults (CODA's)
We may see children and young people for a short time with one professional involved, or help over a longer time, with input from more professionals.
Children and young people might be seen individually, with a family member, or sometimes in a group, depending on their individual needs.
Parents and carers can also be offered support regarding their child's mental health.
Sometimes we support professionals with consultations, and do not meet the family.
We provide mental health care for children across Central and Southern England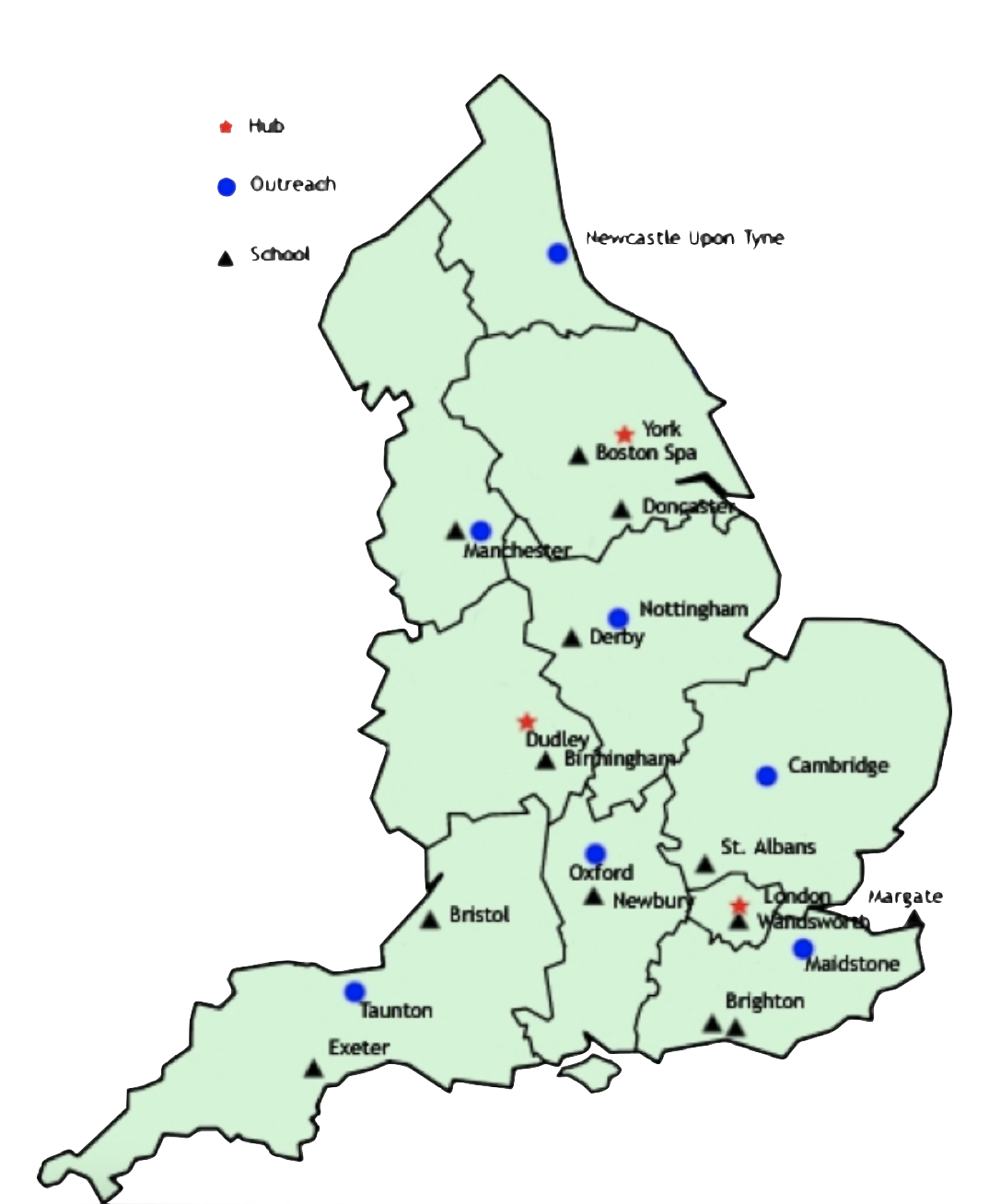 . The counties we cover are:
Derbyshire
West Midlands
Nottinghamshire
Lincolnshire
Staffordshire
Shropshire
Leicestershire
Herefordshire
Worcestershire
Warwickshire
Oxfordshire
Buckinghamshire
Northamptonshire
Rutland
Berkshire
West Berkshire
Wiltshire
Hampshire
The Isle of Wight
Our multi-disciplinary team is made up of child and adolescent psychiatrists, clinical psychologists, clinical nurse specialists, occupational therapists, family therapists, deaf family support workers, community support workers and administrators.
We have a mixture of hearing and deaf staff in our team so some of the team use English and some of the team use BSL. We will communicate in the way that is best for you. We have BSL and spoken language interpreters who can attend our meetings.
If there is anything we can do to make communication easier then please let us know.
Referrals can be made by GPs, teachers, social workers or other professionals.
Our service is not an emergency service. If there is an emergency, phone 999. This is if your child's life or the life of another child or young person is at immediate risk.
If it's not a 999 emergency, you can dial 111 if you need help fast.
If you are deaf and you need to contact 999 in an emergency, please use the Text Relay Service.
Deaf BSL users can access both Video Remote Services (VRS) and Video Remote Interpreting (VRI) through the BSL Health Access button on the InterpreterNow App.
National Deaf CAMHS
Cross Street Health Centre
Lower Ground Floor, Cross Street
Dudley,
DY1 1RN
Phone: 01384 325179
Email: bchft.deafcamhs@nhs.net