Black Country Healthcare NHS Foundation Trust has a Learning Disability Community Service which helps people with a learning disability with their health needs.
The Learning Disability Community Service team would like to ask people for feedback about their experience of the service. This feedback will help them improve the service for everyone. There is more about the service and team, and how to give your feedback below.
Watch our animation to learn more.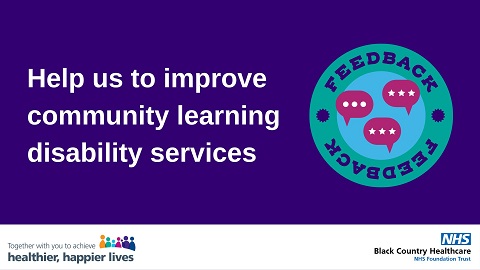 Where the team are based
The Dudley team are based at the Ridge Hill Centre

The Sandwell team are based at Quayside House and they also use Scott House at Heath Lane Hospital for some appointments

The Walsall team are based at Orchard Hills House

The Wolverhampton team are based at Pond Lane
Who is in the team
Each local team has these types of professionals working in it:
Community nurses to help find out what your health needs are and how to help with them

Nurses who help with hospital or GP appointments

Psychiatry doctors who support with mental health and sometimes epilepsy

Occupational Therapy who help with daily activities, equipment and sensory needs

Speech and Language Therapy who help with communication and swallowing needs

Physiotherapy who help with walking, moving and body posture

Psychology who help with how you think and feel
There is a special team for people who need support with police and court work and there is a special team for people who need more support to stop them from going into hospital.
The team will be asking different people for their feedback, this includes:
people who are supported by the service;
family members, carers and advocates;
healthcare staff;
community organisations; and
members of the public.
Before you share your feedback, read the guidance sheet. There are different ways that you can give your feedback:
Complete our online survey
Download a Microsoft Word copy of the survey, fill it in and email it back to us at bchft.ldcommunity@nhs.net (there is a survey for each area of the Black Country below):
If you prefer to fill the survey in with a pen, download the Microsoft Word copy of the survey, fill it in and either:

Scan or take a photo of it and email it back to us

Drop it off at one of our Trust sites

Post it back to us (we have a FREEPOST address so it will not cost you any money to post it)

Complete the survey with the Learning Disability Community Service health professional who supports you (ask them to discuss this with you)
Telephone the relevant local team and they will help you complete the form over the telephone (their contact details are in the 'how to contact us' section below)
Come to one of our meetings or events which will be advertised on this page and on our social media
If you would like to discuss the survey with someone you can contact your local team (see 'how to contact us' for their details).
FREEPOST address
Freepost Plus RRRG-BBTC-UKSE
(Learning disability community services review)
Service Experience Desk
Black Country Healthcare NHS Foundation Trust
Trafalgar House
47-49 King Street
Dudley
DY2 8PS
A Lived Experience Consultant (LEC) is someone that has used services or has family members that have used services. They will share other people's experiences and get others involved to make services better.
There is more information about what a Lived Experience Consultant in this easy-to-read guide.
If you have any questions about becoming a Lived Experience Consultant or want to get involved contact:
We will be organising some online and face-to-face events where you can discuss your feedback in person. These will be advertised here soon.
We would appreciate your help in promoting our community learning disability services review to other people. These are some resources that may help:
For everyone
For Black Country Healthcare staff
Add the email signature to your emails - see the instructions below
To add the signature first save the email signature image on your computer
Go to 'Outlook Options' in Microsoft Outlook then select 'Mail' on the left hand side
Under the Mail menu select 'signatures' - here you can edit your current email signature
Go to the end of your current signature and make sure the cursor is underneath your signature (press return after the last letter)
You will see an 'insert image' icon above your signature - add the image
Make sure that you add the link to this website page to the image so people can click on it to visit the website - to do this select the 'insert hyperlink' icon above your signature (making sure you have selected the image first) - paste this website page address into the hyperlink box
Survey
You can discuss the survey with one of our local teams:
Dudley 01902 324700
Sandwell 0121 543 4287
Walsall 01922 658800
Wolverhampton 01902 444447
Questions about the community services review project
You can email the review team at: bchft.ldcommunity@nhs.net.
The project lead is Tracey Shilvock, Principal Occupational Therapist and she can be contacted by email to: t.shilvock@nhs.net.