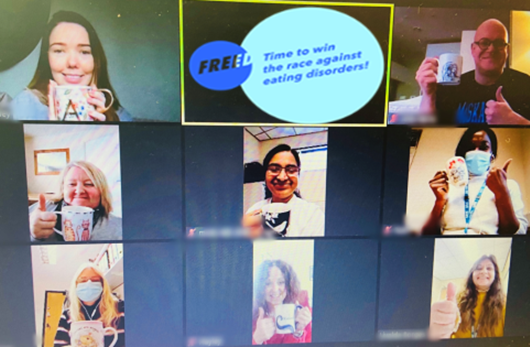 The All Age Eating Disorder Service at Black Country Healthcare NHS Foundation Trust (BCHFT) have recently held a virtual tea party to celebrate the launch of the First Episode Rapid Early Intervention for Eating Disorders (FREED) service.
FREED is for 16 to 25 year olds who have had an eating disorder for three years or less, and young people who use the service are given rapid access to specialised treatment which gives special attention to challenges we know young people face during these years of their life, and in the early stages of an eating disorder.
Members of the team at BCHFT incorporated a soundtrack of songs about the importance of being optimistic into their celebration – capturing the mood and attitude of those in attendance for this important milestone.
They expressed their enthusiasm about what is, for them, a smart way of working which provides better care for service users.
Amie Buckley, FREED Champion, commented: "I am really energised and inspired by the resources which allow our team to work in a more creative and impactful way. With an increased amount of time being spent working virtually, the social media resources will be really effective.
"There are challenges that come with launching a new service initiative in ever-increasing times of uncertainty, but as a team we are so excited to join the FREED network and provide early intervention at a time when it is most needed."
A member of the team also said: "It is exciting for the service to have a framework for innovation and early intervention, that allows us to place much more emphasis on preventative work and reduce the duration of untreated disorder. This will benefit and improve the quality of the lives of young people and their families in the long-term."