Did you know that our learning disability serivce comprises of a variety of amazing individuals with different backgrounds, expertise and diverse talents?
From learning disability nurses, physiotherapists, speech and language therapists to student nurses, forensic community nurses, PAMHS - we have something for everyone in our Trust who is passionate about advancing the support, care and research into learning disability services.
We asked our staff what made them want to work in learning disability services, what their role involves what inspiring words they would give to someone considering a career in the LD service.
You can read their amazing, personal stories below, from recent members of staff to those who have been in the industry for many years and we hope they inspire you to consider a career in learning disability services!
When looking for a career, it was obvious I was going to choose learning disability nursing, as the local learning disability team had been a part of my extended family for as long as I can remember, supporting and enabling my brother to lead a valued, happy and healthy life. These professionals inspired me to want to make a difference and enable people with learning disabilities, families and carers to have a voice which can be heard so people can be involved and lead their best lives.

Training to be a registered learning disability nurse was one of the best decisions I made. This year will mark 31 years and I am truly privileged to do a job I love. Learning disability nursing has physically changed considerably from when I registered and I still work closely with colleagues who have same journey from working from institutions to patients having their own home, employment, having healthy relationships, partnerships and marriages.

The community LD matron role is forever evolving, so diverse and varied. It includes working across the four localities in the Black Country with the community learning disability teams which include the Behaviour Support Team, Community nursing teams, Promoting Access to Mainstream Health Services and lately the Intensive Support Team working with and for people with learning disabilities.

I support and provide clinical leadership to these teams to deliver high quality, evidenced based, person centred service for adults with a learning disability, promoting rights and inclusion, challenging health inequalities which is even more apparent during these unprecedented times of COVID 19 a subject I feel passionate about. One of my key roles is to support the LD division coordinating LeDeR reviews and liaising with external stakeholders to learn from these events. I also co-chair the award winning LD Quality Improvement Group who consider NICE Guidelines and benchmark and then embed them into clinical practice, LD divisional mandated audits, quality improvement priority which this year focused on preventing constipation. Currently I have started chairing the risk pathway group which aims to reduce hospital admission by collaborating with CCGs transforming care leads.

The future of learning disabilities nursing continues to evolve and will remain to exist whilst people with a learning disabilities need support to fight and challenges for their rights and to be equal in today's society.

I give this quote which I feels sums beautifully my feelings: "Where there is a LD nurse, there is another soul sharing your passion and feeling your heartbeat. When many heartbeats have created the music, the song is beautiful and the dance majestic."

What is your job title?
Community Forensic Nurse (Learning Disabilities)
How long have you been working in LD?
3 years
What does your role involve?
Supporting individuals with learning disabilities who come in to contact with the criminal justice system. Working within an MDT to provide treatment pathways in the community for people with forensic needs to reduce hospital admissions. Working collaboratively with multi agencies to ensure robust risk management of patients with forensic needs.
Why did you choose to work in LD services?
I trained as a learning disability nurse at Birmingham City University. I wanted to support people with learning disabilities, to have a voice that was not often heard and to ensure people have the opportunities to live their best life.
Rewarding aspect of your role​
It's hard to put in to words when you are dealing with forensic people. But I would have to say being part of an amazing team that all work together to support each other as well as the patients.
Seeing people being assessed and treated in the community, not hospital, developing their skills and reducing their offending. Transitioning people who have spent years in secure hospital into the community. Working with families and carers.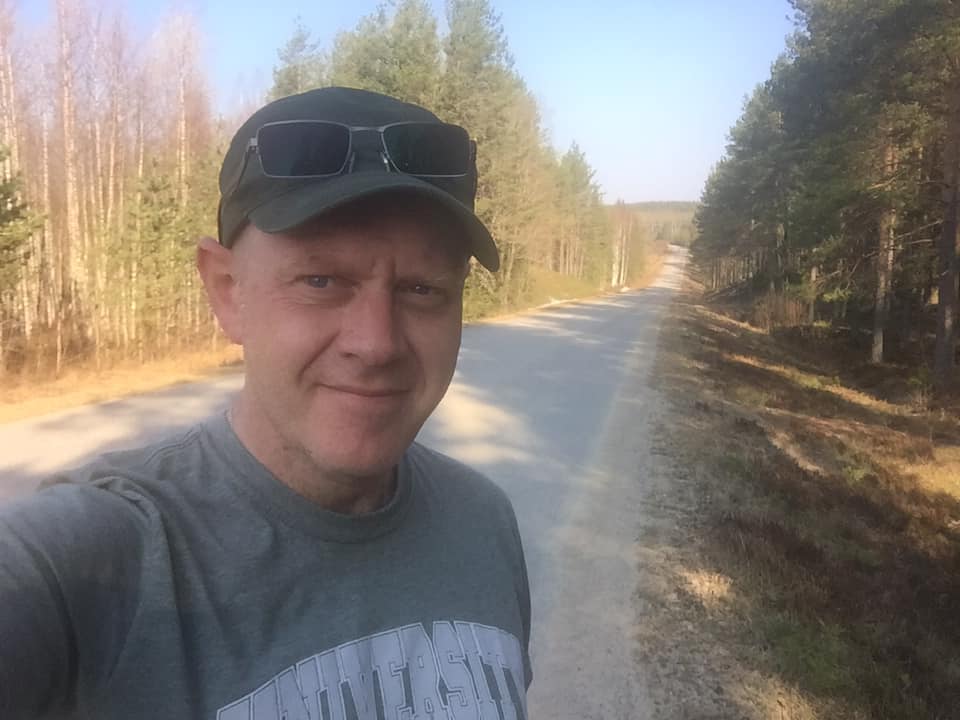 What is your job title?
I am a 'Band 5' staff nurse at The Gerry Simon Clinic in West Bromwich. I form part of a multi-disciplinary team who support males with learning disabilities and forensic histories.
How long have you been working in LD?
I have been working in the learning disability field for five years. I worked as an inspector on the railway for almost twenty years before taking redundancy and starting work as a HCSW for Mencap. During my time in the HCSW role, I made the decision to study Learning Disability Nursing at Wolverhampton University; I qualified in September last year.
What have been the highlights of your journey so far?
Being a student really made me aware of the importance of going the extra mile and making the most of the opportunities that come your way. During my three years at university, I was part of The Council of Dean's Student Leadership Programme, I was a student editor for The Nursing Times, and I was an intern with the Twitter based WeLDNurses. I also spent eight-weeks on an elective placement working in Finland supporting people with learning disabilities. I love the whole approach to care over there as they always look at things with a 'how can we?' rather than a 'why can't we?' attitude - for me, that is the essence of LD nursing in a nutshell.
What now?
I am very lucky to be spending my first year in practice being supported by the fabulous team at the Gerry Simon Clinic and I am learning something new every day. I also hold two positions within the RCN – I am on the RCN Learning Disability Steering Committee and I have recently been asked to curate for the RCN's Newly Qualified Nurses. I find both roles hugely interesting and there is so much to learn from being involved. Not only are they great platforms for raising the profile of our profession and the needs of the people we support at both local and national levels, they also provide a great network of peer-support and a fantastic source of knowledge and resources for student, newly qualified and experienced nurses alike.
What is your job title?
I am the Lead Consultant Clinical Psychologist for the BCHFT Learning Disability Services.
How long have you been working in LD?
I first started working with people with a learning disability 25 years ago in 1996 in my 2nd year of clinical psychology training with the University of Birmingham. I worked in Sandwell with an inspiring Clinical Psychologist, Sue Marshall, as my supervisor. The team also included a Cognitive Behavioural Nurse Specialist, Alan Rudman and a Specialist Counsellor, Monica Tatton (Many people with a Learning Disability and colleagues will remember them!).
Together they made a great team and I was fortunate enough to return to Sandwell in 1998 as a qualified Clinical Psychologist. I have worked in several parts of the Black Country Learning Disability Services ever since, until next month which will be my last here!
What does your role involve?
In the Black Country, we have a range of specialist health services for people with a learning disability and their family carers and paid support teams. Since 2010, I have worked in our forensic services. In both hospital and community settings we support people with a learning disability who have committed an offence or who are at risk of contact with the criminal justice system. As a psychologist I work as a part of a multi-disciplinary team. Together we help people develop the right skills and support to live a good life, safe and well, back in the community.
As the Lead Psychologist in the Black Country Learning Disability Services, I also work alongside many senior colleagues and staff. Together we try to develop all our different services for people with a learning disability to be the best they can be for people in the Black Country.
Why did you choose to work in LD services?
Right from the beginning, I met people with a learning disability who were working hard with their families and carers to live the best life they could. There were many challenges to overcome, with difficulties with physical health, communication, feeling connected socially, at work or college, and struggling with mental health and bad experiences through life. I was very aware of how important it is for all of us, including me, to feel ok about key things in our life, to live well. I wanted to be part of this challenge.
Rewarding aspect of your role
As psychologists, my colleagues and I are trained in ways of talking to help people understand their difficulties, work out solutions and put these into practice in their lives.
Many different types of talking therapies have been developed that people with a learning disability can engage with. Every person is different. So every conversation is different. When these conversations go well, it is brilliant to see how people can really make the changes they want to make in their lives, and feel pleased with their progress. It doesn't always come easy though, and it is important for me and others to appreciate just how much effort is needed for people to keep going and to keep making small changes that make a difference.
Over the years I have been fortunate to benefit from a lot of good ideas and research that points our work with people in the right direction. Over the years in the Black Country I have worked with many compassionate and determined colleagues in our services from whom I have learned a lot!
As it is time for me now to move on into a new chapter in my life, I want to thank everyone for their part in the good life that I have had in the Black Country. I wish all our service users and colleagues the very best wishes for the challenges and successes that lie ahead!
My job title
Physiotherapist Technician.
How long have a worked in LD?
I have been working with learning disabilities for the last 24 years, in this position 12 years.
What does your role involve?
My role is to support the physiotherapist with the day to day running of our service, Physiotherapy covers many areas, including (but not limited to):
1. Maintain mobility
2. To encourage independence
3. To support and order any mobility aids that may help
4. To create my plans with individuals to help set goals, and support working towards these goals
5. To assist Physiotherapist with 24 hour postural programmes
6. To help support individual's with Orthotic clinics and appointment's ensuring correct equipment is ordered inline with Physiotherapy or Orthotist recommendations.
7. To communicate with other members of the MDT team to provide best possible care
To be honest, the list could go on and on! Physiotherapy within LD and working closely with other teams covers quite a lot!
Why did you choose to work in LD?
For me, I love working with individuals with a learning disability - everyone is so unique and so grateful of the help and support they receive, the job keeps me on my toes as there is lots of problem solving to get the best outcome. It keeps my mind very busy and I love seeing the end result of individuals feel that they have been listened to and supported.
Rewarding aspect of my role
My role is very rewarding to me; I feel that I am doing the best I can to provide the best service for all individual's with LD and I love it. I also get to work within a great team who give me lots of advice and support!
When did you start?
I started as a student learning disability nurse in September 2017.
What team/service are you currently working in?
Gerry Simon Clinic, Forensic Learning Disability, Heath Lane Hospital, as a pre-registration nurse.
Why did you choose to work in LD?
I have always wanted to work in a health and social care role. Following college, I began working at a primary school for children with mild to moderate learning disabilities. I found the job rewarding and really enjoyed working with people with a learning disability. I decided to learn more and get different opportunities in a learning disability nurse role.
What has your experience been like so far?
Although it can be a challenging job, it has been the best decision I have made. I enjoy being a student, working in a range of places, with brilliant nurses, support staff and working with the people we support. I have gained so much from my colleagues and the people we support.
Where do you wish to be in your LD career in the future?
I want my career in Learning Disabilities to be rewarding and make a difference to a person's life. I want to make sure I promote the values of inclusion and equality.
Job role:
Healthcare Support Worker at the Larches Forensic Recovery and Rehabilitation Unit
How long have you been in post?
5 years
What does your role involve?
My role involves supporting our patients during their rehabilitation. I regularly take patients out on community leaves. These can range from meals out or to the local town centre for some shopping.
I am lucky to be able to work with a wide range of multi-disciplinary professionals, ranging from nurses, to occupational therapists and doctors. Working alongside these I help support our patients and build up their daily living skills for when they eventually move back into the community. All the while following care plans and maintaining risks. When our patients are feeling low I am always around to sit down and talk to, talking about a problem can be great healer and together we can come up with solutions, or if need be I can point them in the right direction if what they need is beyond my capability.
Why did you choose to work in Learning Disability Services?
I didn't really choose Learning Disability, I began my career with BCPFT as an apprentice and I was given a learning disability hospital as my placement. I wasn't even fully aware that the apprenticeship was for either mental health or a learning disability hospital when I first applied. I was worried if I would be the right sort of person for the job and if I would like it but in all honesty I have never looked back. I really enjoy it and believe this service suits me well. Every day is full of new challenges; it's a fast paced environment at times but I thrive in it. I want to do what is best for our patients and I want them to succeed. Everyone deserves a chance to live a meaningful and fulfilling life.
Tell us about a rewarding aspect of your job?
Seeing a patient get discharged and move back into the community is easily the most rewarding aspect. Our patients can spend a few years in our hospital and as support staff we work closely with these individuals. We know how important it is for them to leave hospital. So seeing their hard work being paid off and they leave us, it's a good feeling!
What's the hardest thing?
I think the hardest part about my job is when behaviours that challenge are being displayed. These can be quite hard times and demands consistency of practice within our team. It's never nice to see anyone who is in this critical state. Luckily though we are trained to de-escalate situations, and always use the least restrictive actions whenever possible.
What does your service offer to people with a learning disability and their circle of support?
We encourage our patients to maintain good relationship with their family and friends. We can do this by allowing them to be involved in their care as much as is possible and inviting them to attend meetings if that is what the patient wishes. We are lucky to have a dedicated multi-disciplinary team that are always on hand to our patients.
There are many other teams available to us such as the spiritual care team who attend our unit regularly and our patients find these comforting. As we are a rehabilitation unit, we encourage all our patients to take leave into the community as much as possible, this helps rebuild their confidence and promotes their independence when they eventually leave hospital and into a supported living environment.
Job role:
Community Forensic Occupational Therapist
How long have you been in post?
This is my first LD specific role and I've been in post for almost two years. I've worked in forensics for a lot longer than that though - about 13 years.
What does your role involve?
My job is to work with offenders or people at risk of offending who are in the community and have a primary LD diagnosis - I work with the multi-disciplinary team to reduce peoples risk of (re) offending.
Why LD services?
I enjoy working with this service user population - they are often complex and challenging and it keeps me on my toes.
What are the rewarding aspects of your role?
No two days are ever the same and the FCT is so collaborate and work in a truly multidisciplinary way!
I would like to share my positive experience of being a student within the Trust and then later being offered the opportunity to be part of an amazing Sandwell Community Learning disability team in Black Country Healthcare NHS Foundation Trust.
I 'fell' into LD accidentally. 15 years ago I was working as a supply teaching assistant in London. One day, I was sent to work in one of the children education centres. From the first day my hand was held by a non-verbal four year old boy who had learning disabilities and severe autism. I felt privileged that he chose me to be part of his journey and he definitely defined my future career path. After a year spent in London, changes in personal circumstances brought me to the West Midlands. This time, I intentionally chose to work with people with learning disabilities and I gained some great experience while working in a day activity centre for many years.
Later, as I wanted to progress further, I applied and was then offered a learning disability nursing place at Wolverhampton University.
Sandwell Community learning disability team was my third-year placement. At the start of my placement, my mentor guided me and supported me as I have never had any experience working in the community. I was introduced to the specifics of working in the community and supporting our patients and their carers to enable them to access services and reduce inequalities. My mentor and other professionals treated me as a colleague, and I always felt that I was respected and my opinion was valued. Supported by whole multidisciplinary team, I not only extended my professional knowledge, but became more confident. I also felt that my mentor helped me to fit into the group of professionals working within the community team, which also helped me with my self-confidence. My mentor encouraged me to be an independent professional. I was trusted and my opinion and decisions were respected.
​A few months later, I returned to Sandwell Learning Disability Community nursing team, as I was offered PAMHS nurses position. Working in PAMHS team requires lots of thinking "outside the box" in order to enable and empower our patients and their carers. Although it can be challenging at times, the job is hugely rewarding. I have a great manager and the whole team of multidisciplinary team professionals who are always there to support me.
What is your job title?
Advanced Practitioner Physiotherapist Team Lead for the Dudley Adult Learning Disability Team.
How long have you been working in LD?
Just over 2 years.
What does your role involve?
Assessment and specialist treatments for adults with confirmed learning disabilities over the age of 18. We provide individually prescribed exercise programs and offer advice on regaining mobility, independence and function.
Alongside this, we run a specialised posture service which aims to prevent and reduce postural deformities which can lead to multiple complex difficulties for our clients. We often work closely with the MDT with these clients to provide a patient centred, holistic approach. We also provide a regular orthotic service assessing and providing clients with the equipment they need to be as independent and pain free as possible.
Why LD services?
I had worked with adults in various community settings for 10 years and felt I it was the right time to challenge myself and get out of my 'comfort zone'. I applied for the job, not expecting to get it and was thrilled to be offered the team lead opportunity. I love my job. I love working with this client group and it forces me to 'think out of the box' to engage with clients and to help support them to live their happiest and fullest lives.
Rewarding aspect of your role​
I have loved learning about the importance of postural care and learning the specialist skills need to offer thorough assessments and beneficial treatments. The postural work is so rewarding because it often gives the client instant positive results that they and their families and carers can see.
I think physiotherapy in learning disability services has historically been an area considered low in importance, and it is exciting to be able to develop and advance services when finally physiotherapy is starting to get the recognition it deserves in regards to it's role in learning disability services.