At present due to Government Covid-19 Guidelines, we aren't providing work experience placements. Please check back to this page regularly for further updates.
At Black Country Healthcare NHS Foundation Trust, we believe that work experiences are a vital part of the transition from education into the world of work and also to experience different job roles in healthcare (not just doctors/nurses), and are an important investment in the quality of the future workforce.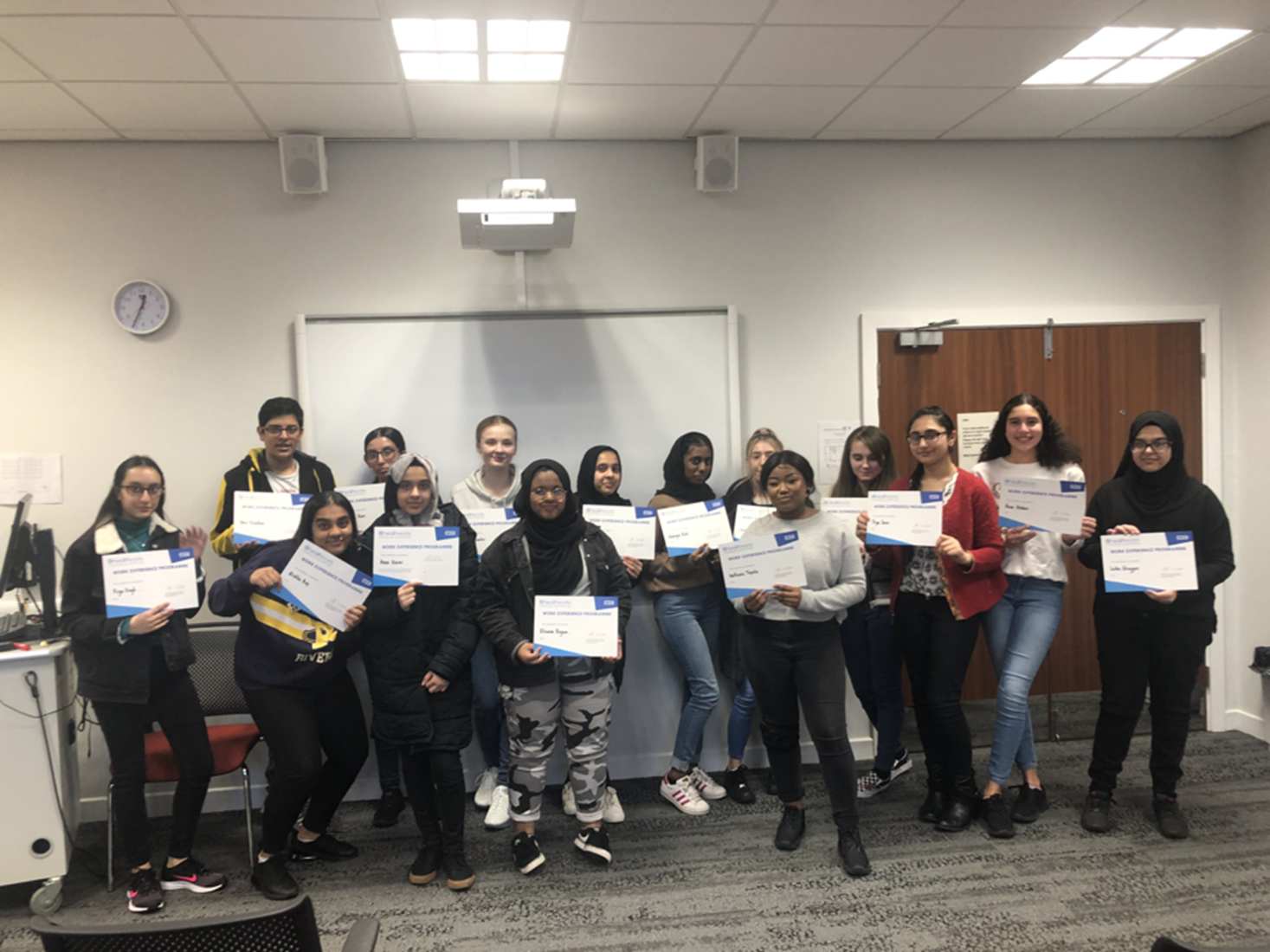 Benefits of Work Experience
Work experience is a fantastic way to gain an insight into a wider range of career opportunities. It will help build your confidence and give you an understanding of the attitudes, behaviours and values that are expected in a healthcare setting such as effective communication, treating people with respect/dignity and punctuality.
You will be able to have a chat with staff as you meet them and listen to their experiences of working for the NHS.
Overall the experience will help you to make informed choices on your future career options and employers are likely to look favourably at students who have taken up the opportunity of work experience.
Your career is sort of like a roadmap. It takes twists, turns (and some times u-turns) but very step takes you closer to where you need to be. And sometimes that first step might be work experience.
What some of our staff say about their experiences of working for the NHS
Michelle, Communications
"Working in the NHS feels like working in a big family. It's very supportive and there's lots of opportunity to develop your skills and build your career. It's a very rewarding place to work and you can see the difference you make to others."
Dawn, Criminal Justice Service.
"I have worked in the NHS for 34 years this year and happily continue to do so. Based on the primary function of 'healthcare to be accessible to everyone' I believe we continue to evolve and challenge societal differences by offering the same basic principle after over 70 years. As staff we have a privileged responsibility to take forward this principle and continue to help everyone in need despite all differences. As an organisation I believe it supports the staff, invests in communities and radically improves public health. Membership continues to be highly regarded as a vocation which in my experience has been rewarding, satisfying and a motivation to support those taking over the reins of the NHS for the future generations."
Neil, Patient Safety
"I consider myself to be proud to work for this organisation and privileged to work for the NHS. The last 18 months has further reinforced to me just how important the wider NHS is to ensuring the health of our nation, whether that is cutting edge treatments or world leading vaccination programs and being able to contribute to this gives a sense of personal satisfaction. Whilst times can be tough, the NHS has also been an environment where I have developed and learnt skills which have enabled me to progress in my career."
Katie, Information Governance
"Working for the NHS gives a sense of pride, understanding the history and importance of the organisation to so many people. Over the years I have worked across various NHS Trusts with people who hold the same values, regardless of what service or role people work within there is a goal across the NHS to support the public and provide a quality service to the patients. Working in the NHS has helped develop me in my career and as a person, there is always something new to learn or a new challenge which keeps the work interesting."
Will, Estates and Facilities
"This Trust is full of wonderful staff who are committed to doing the best job possible and have given me a chance and invested in me, I love working for this Trust."
Julie, Community Recovery Service
"The NHS provides excellent training and support for employees to develop unique skills. You learn things that you probably never thought you could do. You surprise yourself all the time and feel great when you master something that you know will help people, but best of all being part of a great big caring family and making lifelong friends from that family. That's why I love being part of the NHS."
Hannah, Human Resources
"I joined the NHS in 2005 as a Human Resources Graduate Management Trainee and have remained in the NHS ever since. I joined the NHS because I wanted to make a difference and contribute towards service delivery. Now as a mother to two children, I do still enjoy being able to make a difference but I also benefit from being able to work flexibly and balance my work and home commitments. There has also been a clear career pathway for me in my HR career and plenty of development opportunities along the way."
Work experience placements are unpaid and are for a maximum duration of 5 days, generally between the hours of 9:00-17:00, Monday to Friday during the months of June and July. This is in the main open to students who are 14-18 years of age (years 10 to 13), although older applicants may also be considered.
It would be worthwhile looking at our services on the website to learn about the services the Trust offers prior to completing an application for a placement, for example HR, IT, Medical Records, Psychology, Medical Psychiatry, Estates, Governance, Patient Experience,Customer Services, Communications, Pharmacy, Infection Control etc. You may also find it useful to watch the video here about some of our services.
NHS careers
The National Health Service offers a huge range of exciting and challenging opportunities for people who are passionate about making a difference. With more than 350 different careers on offer, there is a job for you no matter what your interests, skills or qualifications. Find out about the range of opportunities by visiting http://www.healthcareers.nhs.uk
NHS jobs
The NHS jobs website provides information on healthcare vacancies nationwide and you can request to receive an email alert when any jobs of interest to you as soon as they become available. https://www.jobs.nhs.uk
Step into the NHS
The Step into the NHS website lists many of the career options available within the NHS, as well as a Career Mapper quiz to help you discover what NHS careers match your interests. There is also information on types of work experience and apprenticeships available in NHS trusts, as well as videos and case studies of staff to show you what it is like working within the NHS. http://www.stepintothenhs.nhs.uk
NHS Careers Youtube channel
Watch videos from various NHS staff to find out more about its like working within the NHS. https:/www.youtube.com/user/NHSCareers
In addition to work experience placements, each school holiday the Trust holds 3 day work experience programmes at throughout the Black Country, supported by our colleagues, to give 14-18 year olds a taster of working in the NHS. These highly popular programmes have received over 300 applications in previous years and over 40 schools represented by their students. Please contact the Work Experience Team via email if you are interested bchft.learningdevelopmentteam@nhs.net